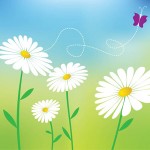 Our baby rooms cater for children from the age of 3 months until they are actively up and about with confidence and ready to move on. We work on maximum 3:1 children to staff ratio with the continuity of staff being a priority.
Our rooms are bright, cheerful and stimulating which offers a caring and loving environment. The emphasis is very much on providing a home from home, care with lots of play, love and cuddles. The unit has a separate sleeping room and changing facilities.
Our babies' development is monitored at regular intervals, and activities are planned to promote the next milestone along the way, be it learning to sit unsupported, scribbling with a crayon or saying that first word. Daisies group spend time every day cuddling up on a lap with a picture or storybook to develop a close bond with the staff, and an early love of books.
Language development is very important for this age group. Daisies are absorbing all of the knowledge they will need later when they begin to talk themselves. They not only learn the names of objects and actions, they learn about taking turns in conversation, sentence structure, expression and humour. It is vital that babies receive sufficient one to one conversation time to ensure that their language skills are fully developed. At Kiddies Kottage we make sure that each baby is given plenty of one to one conversation and is encouraged to respond and interact with the staff.
Physical and messy play are also important for babies. We aim to take our babies out for a walk at least an hour a day weather permitting, such as to the local park. We have a range of outdoor play equipment to develop a wide variety of physical skills once the babies become more mobile. Once they are about seven months old, the babies have access to sand and water play equipment and start to discover the joy of painting and crayoning.
We keep a daily record sheet, which we complete and send home and we ask parents to inform us in the morning of any changes to the baby's routine. This ensures that there is continuity of care between home and the nursery, and no important information is forgotten when the baby is handed over.
The staff always follow parents' preferences and the baby's established routine is followed on joining the nursery, wherever possible. Once your baby is mobile and ready to move up to the Lilies (Toddlers group), he or she will gradually be introduced to the new Key Person and the other members of the group.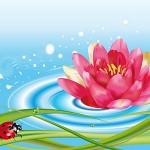 Our two and rising 3 year olds, know as the 'Lilies', allows us to provide activities, which are designed specifically at the developmental stage, rather than a general activity, which would leave some children bored, and others out of their depth.
When children move up from the Baby Unit there is a full hand-over procedure between the Key person and the children are usually introduced to the 'Toddler Group' gradually by spending a few days in there over a period of weeks to get to know the rest of the group. Parents are introduced to the Toddlers Key person so that they can discuss any concerns that they might have. The system of providing information to parents is different with 'Lilies'. Because the children have usually established a routine of eating, drinking, toileting and sleeping already, their parents are more interested in what activities they have been doing during the day. We therefore no longer provide the daily diaries as we do in the Baby Room but we display the activity programme for the class on the notice board instead. If there have been any problems with a child's physical well being, if he hasn't eaten his lunch or has scraped his knee at play time, we will of course discuss it with the parent on collection, or contact a parent earlier if a child is unwell.
A wide variety of fun activities are carried out daily, which are designed to develop all aspects of the children's development, encourage imagination, creativity and an enquiring mind. Lilies' has separate areas for messy play, quiet activities, floor play and imaginative play. The home corner is changed regularly to provide a range of settings such as a shop, plane, hospital, post office, home, pirate ship etc. The children continue to develop their knowledge of shape, colour, number and phonic letter sounds and their vocabulary is extended to enable simple conversations about their environment, family, friends and activities. The children are usually completing their toilet training and will still want to have an afternoon nap in this group and we provide all of the facilities that they will need.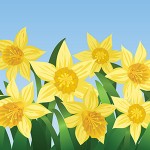 Children will enter the Daffodils 'Pre-school Group' either on joining the nursery or having moved up from Lilies, in which case there will be a transitional phase between the two groups as with the 'Lilies'. They share a large room which is fully equipped for all of their activities and again has different areas for different types of play. The preschool children have usually outgrown their afternoon naps but if they still need them the facilities are there for them. Daffodils share a Key Person who plans separate or differentiated activities from the 'Lilies'.
The assistants and the Key Person form a team to organise and supervise the activities and care for daffodils. Lilies and Daffodils  will combine for some of the activities and work separately for others. Combining groups for activities, such as Creative, Physical or Personal, Social and Emotional Development (PSED), allows the younger children to learn from the older ones and allows the older children to develop a sense of responsibility and caring for the younger ones. However, separating the groups for activities such as Mathematics (M), Communication and language (CL) and Literacy (L) and Understanding the World (UW) ensures that the children's activities are aimed at the right level for them so that they are neither bored nor out of their depth.
There can be a wide range of abilities within the  Groups. We observe and monitor each child to ensure that they are provided with activities, which are appropriate for their level of development in each separate area of the Early Years Foundation Stage curriculum.
The Early Years Foundation Stage curriculum is followed by all of the children and extension activities are offered in all areas of the curriculum to ensure that they are able to achieve their full potential. Our aim is to help each of our children to achieve the best that they can in all areas of their development by extending them in their areas of talent and supporting them in their weaker areas. When our children leave the preschool to start school they have the confidence to know that if they treat others with respect, try their best and ask for help when it's needed, they can achieve anything. What better start can you offer a child?